Stucco Woes? Here's What You Need to Know: 10 FAQs on Remediation
Is your stucco siding chipped or cracked? Are you worried that water damage might be compromising the integrity of your structure?
If so, you may be curious about stucco remediation.
At Choice Exteriors, we provide stucco remediation services to get to the root of your stucco damage and fully fix the issues so you never have to deal with them again!
But before you jump into a project like stucco remediation, you have some big questions that need to be answered. We get it⁠—that's why we wrote this blog post, to answer your most common questions about stucco remediation so you can have peace of mind about where to go from here.
What is stucco remediation?
If you see surface damage on your stucco siding, it probably only needs a simple repair. But if there is underlying water damage, it needs an extensive repair and replacement process known as "remediation."
Remediation involves stripping the old stucco from the walls, fixing the underlying damage, and applying new siding. 
Proper stucco remediation not only replaces the siding and fixes the underlying damage but also installs the correct flashing, lathing, and barriers to ensure the problem won't occur again.
Why does stucco need to be remediated?
Stucco siding is quite durable if it's installed and maintained correctly. However, cracks may form over time if the building settles or you experience extreme weather. If you don't repair these cracks, they can let water in, which may cause extensive damage to the underlying structure of the building, compromising its structural integrity. 
Alternatively, water damage may be caused by incorrect stucco installation practices, such as inadequate flashing, improper lathing, or insufficient water-resistant barriers.
Properly installed and maintained stucco should not need to be remediated.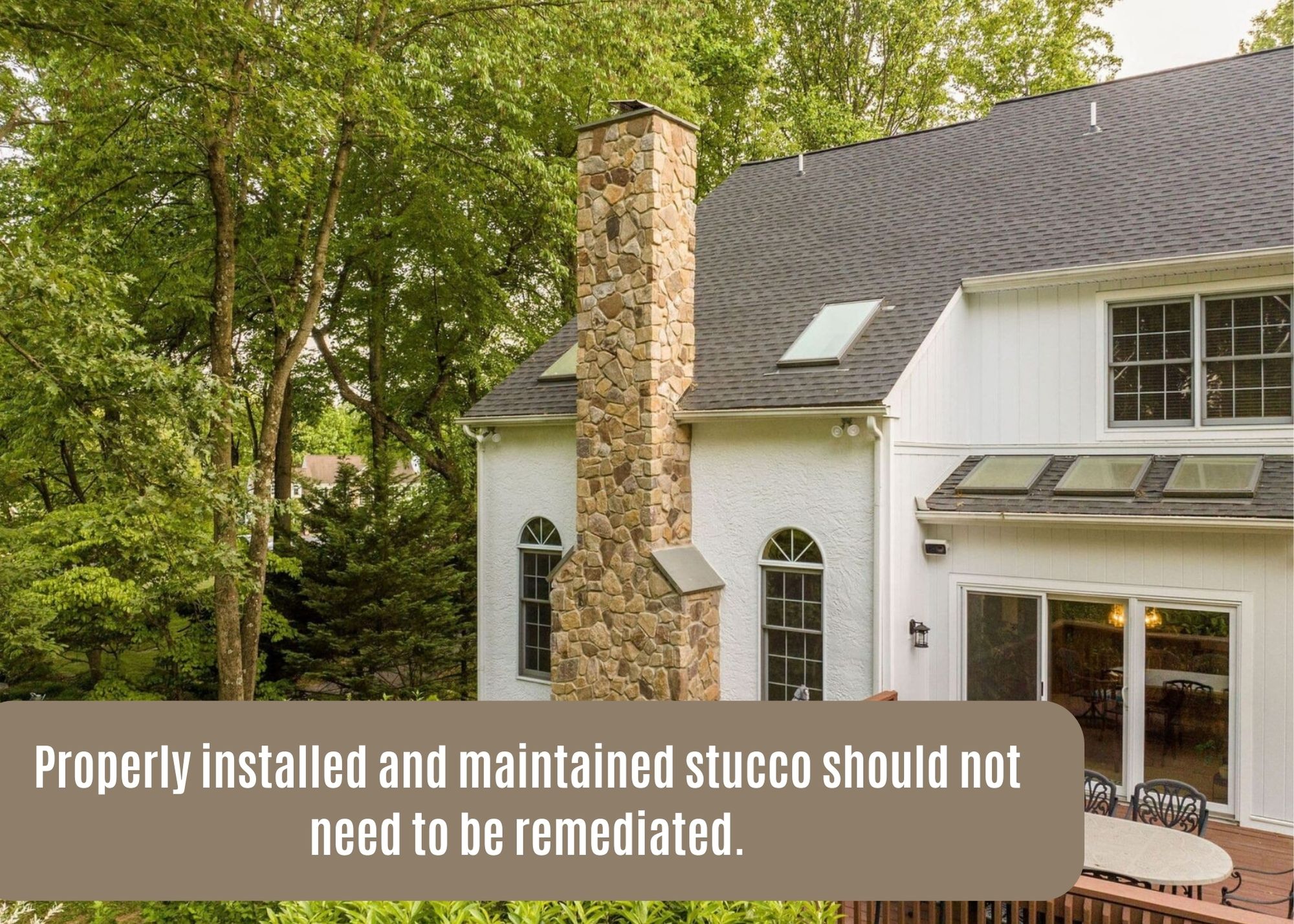 Is it better to repair or replace stucco?
Whether you repair or replace stucco depends on the underlying damage. However, it's difficult to know if there's underlying damage based on the surface alone! A crack may be caused by your building settling and require only a simple repair. On the other hand, the crack may be caused by water seeping in behind your siding and be a sign of damage below the surface, requiring remediation. 
Repairs are much cheaper than complete remediation, but if you repair when you need remediation, you'll just patch the problem, and it will recur again. The damage will worsen because you didn't fully fix it the first time.
Your best bet is to ask a stucco remediation expert to examine your stucco for underlying water damage. The expert will be able to tell you if it's surface damage that needs only a simple repair or if there is structural damage that requires remediation.
If you are located in Southeastern PA, NJ, or DE, we'd be happy to take a look at your project and give our best advice and a straightforward price estimate. Check out the locations we serve here.
How long does stucco remediation last?
If stucco remediation is done correctly and properly maintained, it lasts for decades or even centuries.
You see, stucco remediation is only necessary if:
The stucco, flashing, or other building components were incorrectly applied in the first place, leading to water damage

The stucco, flashing, or other building components were not adequately maintained and patched, and the deterioration led to water damage.
Different siding types have different lifespans, but overall, expert stucco remediation should only need to be done once in your lifetime.
What does stucco replacement cost?
On average, stucco removal costs between $900 and $1,200, while adding new stucco siding costs between $8,000 and $11,100. You can cut costs by choosing a cheaper type of siding to replace it with. 
Remember: these price estimates don't include the cost of repairs! The actual cost of complete remediation will vary depending on how much structural damage needs to be fixed. 
What are stucco replacement options?
If your stucco is damaged and needs to be replaced, you can hire an expert to strip it off and replace it with a new coating of properly installed stucco. However, many people choose to replace stucco with other types of siding, such as:
For best results, talk to a local siding expert about your options and what they'd recommend as a suitable replacement for stucco! After all, there's no "best" type of siding; it depends on your taste, budget, and local weather conditions. 
How do I repair water-damaged stucco?
If your stucco is water-damaged, water has seeped beneath the stucco and probably caused underlying structural damage. Ask a professional to inspect your stucco. If the harm is surface-level, a simple repair will fix it, but if it's damaged the underlying structure, you'll need a stucco remediation expert to strip off the stucco and fix the issues underneath.
How long does stucco remediation take?
Stucco remediation projects depend on the size of your home and your contractor's schedule, but you can expect a typical project to take 10-18 days.
What is the stucco remediation process?
The stucco remediation process typically involves five steps.
Step 1: Inspection
A professional examines your stucco. They tell you the extent of the damage and whether you can get by with a localized repair or if remediation is necessary.
Step 2: Stripping off the old stucco
If the professional finds underlying damage, they remove the old stucco, stripping the exterior wall down to the base layer.
Step 3: Internal damage repair
The remediation professional repairs the internal water damage caused by the failing stucco.
Step 4: Damage source repair
The professional also fixes whatever caused the damage, such as improper or deteriorated flashing, that allowed water to seep in where it didn't belong.
Step 5: Installing new siding
Once everything underneath is fixed, the professional applies new siding correctly and professionally to keep your home watertight for decades. Often this is a new layer of stucco, but if you want to go with a different look or something more inexpensive, you can choose a different type of siding instead.
What happens if you don't repair stucco?
Cracked or chipped stucco may be an eyesore, but if it's still water-tight and you don't mind the look, it's fine.
However, cracked stucco may let water seep underneath the stucco, and that can cause structural damage. Alternatively, the cracks themselves may be caused by water beneath the stucco. And water damage issues will continue to cause more and more headaches down the line the longer you go without resolving them. Issues like:
A weakened foundation

Rotting wood

Mold growth

Warped or buckled floors, walls, or ceilings

Stains and discoloration

Pest infestations

Bad smells
Because of this, it's always best to ask an expert to examine your stucco. Many siding companies even offer free inspections.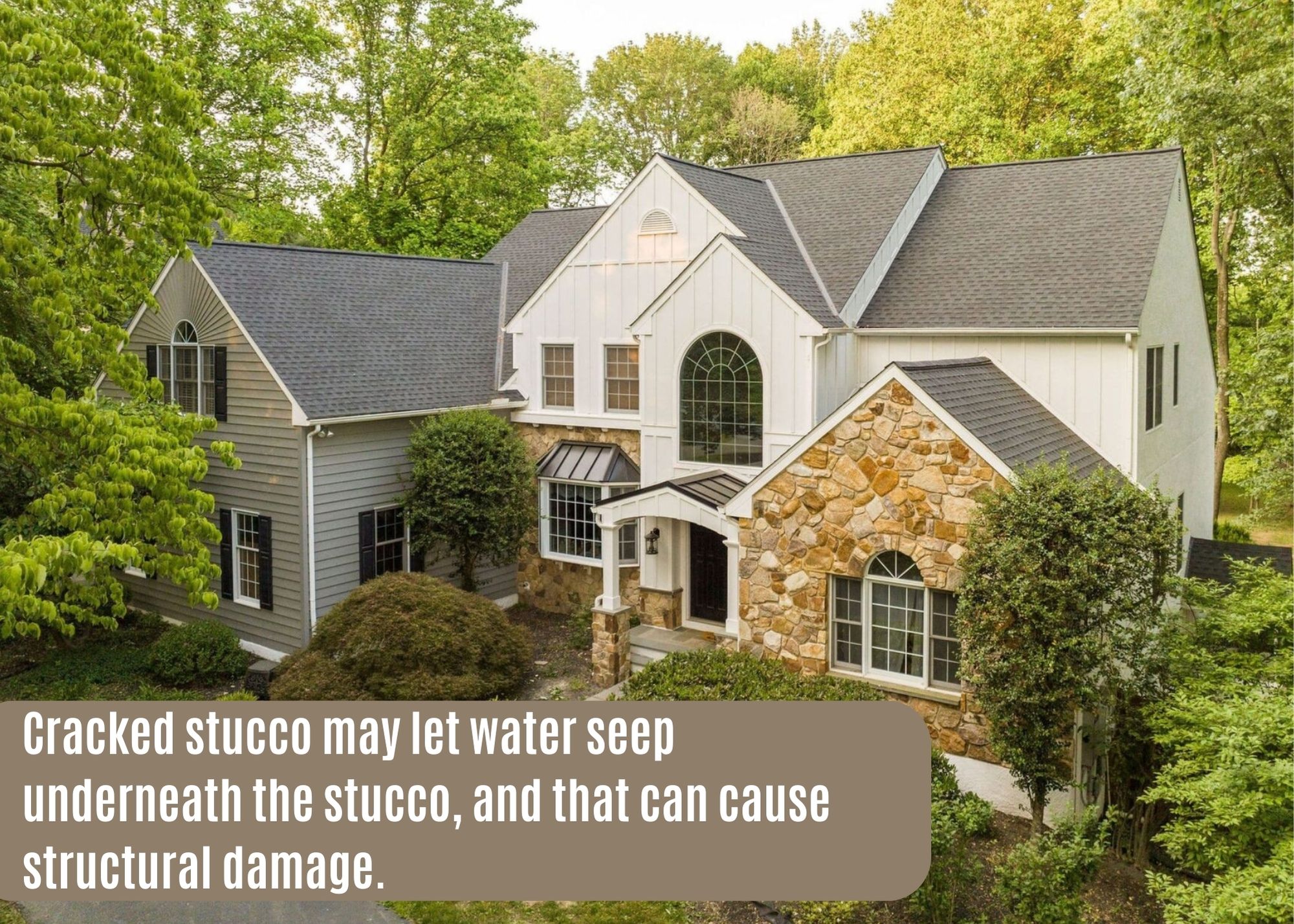 Conclusion 
Stucco issues are no fun, but hopefully, you found this article helpful!
Here at Choice Exteriors, we're committed to keeping your home fully protected from the elements. That's why we perform high-quality stucco remediations so you never have to worry about your home suffering structural damage from water seeping through damaged stucco!
We also provide other home exterior services, such as:
If you have any questions about our services, we'd love to chat with you about how we can help you beautify your home.
Contact us today⁠—we look forward to hearing from you!